End of November DuckTales Issue #3 will be released. Two new stories featuring Scrooge, Donald and Della (who is still hidden on the pre-publication covers). Story one will be about the Ghost of Nostradogmus and the story two will be about the Terrifying Secret of the Pumpkin People.
DuckTales Issue #3 Covers
Also this time around there will be a Cover B and a Blueprint Variant. Cover B features Donald and Scrooge in the second story of this issue. In the back we see a third character, presumably Della, overlayed with a question mark.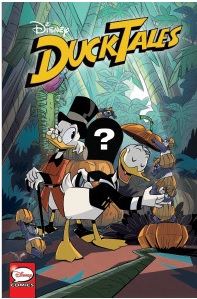 Order Information
DuckTales Issue #3 is set to be released between November 15-30, 2017. You can already pre-order via Google Play or Archonia.
Image Credits: IDW Publishing.